2715 Pinedale Road, Greensboro, NC 27408
M-TH 8:00 AM - 5:00 PM, F 8:00-1:00 PM
Infection Control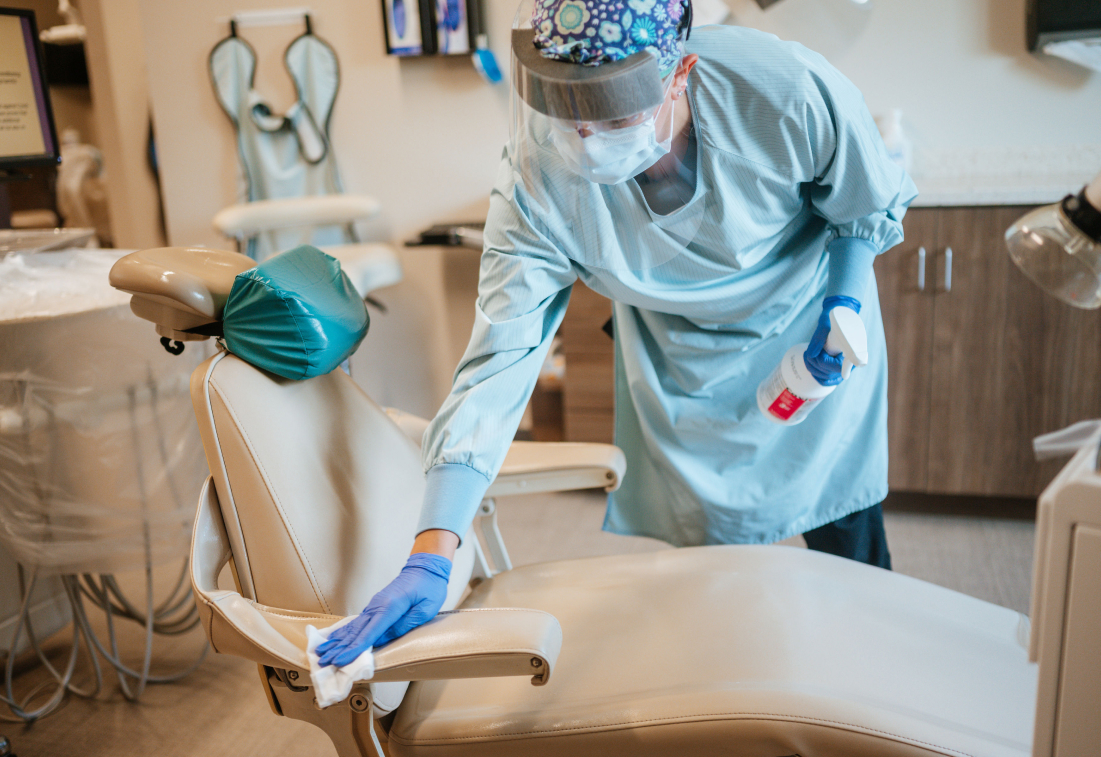 Our patients' safety is important to us!
At our office, we follow the extensive infection control recommendations outlined by the Occupational Safety and Health Administration (OSHA), the Environmental Protection Agency (EPA), and the Centers for Disease Control and Prevention (CDC). For every patient encounter, the following infection control and safety measures are applied.
Our infection control and safety measures include:
Eye protection for patients and team members
Disinfectant hand soap
Gloves and face masks
iWave air purification system
Extraoral suction
Chemical disinfection of countertops and surfaces
Sterilization of all equipment before every use
What Is Extraoral Suction?
The Extraoral Dental Suction System is a high-end filtration system that reduces droplet spreading during dental treatments. This helps us to minimize the risk of spreading any viruses and infections. One of its features is a UV disinfectant light that eliminates germs. We want our patients to feel safe and comfortable while visiting our office. Using extraoral suction is one of many steps we make to accomplish that!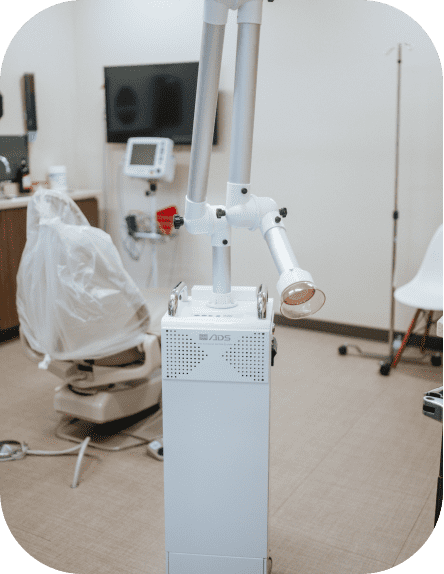 Air Purifier
The air we breathe largely affects our overall health and well-being. Air purifiers are very effective when used in indoor spaces. We use an iWave air purification system to maintain a safe environment with clean air for our patients.
Benefits of an air purifier:
Reduces symptoms of asthma
Removes chemicals from indoor spaces
Removes odors
Reduces the changes of an airborne illness
Eliminates bacteria
And more!
The iWave air purifier reduces germs by up to 99%, leaving us with a clean and healthy environment.
In addition, our team of professionals sterilizes all reusable equipment after each use, including handpieces. We use an autoclave, which is a device that kills bacteria and viruses by steam, heat and pressure. When possible, we use disposable materials and tools to eliminate the risk of cross contamination through reuse.
We invite you to call Greensboro Perio today at 336-379-8377 to learn more about infection control in Greensboro, North Carolina, or schedule your next appointment with our periodontists, Dr. Neil Lutins, Dr. Luis Benitez or Dr. Veronica Longville. We look forward to caring for you!